Detoxification for better health
Detoxification is a natural function, however, our elimination channels can become clogged due to toxic overload and poor diet. To improve their functioning we need to follow a comprehensive detoxification program. We regularly clean our homes, our cars, and our outer bodies. So why neglect the inner body?
The Seven Channels of Elimination
Lungs: The lungs eliminate toxins (ex. Carbon dioxide) with every exhalation. The muscular contractions involved in breathing also help to transport lymph and blood, which also convey toxins. The lungs' lining of mucus and cilia help prevent toxins from entering the body.
Liver: A major organ of elimination, the liver serves as the manager of the entire detoxification process in the body. According to research, the toxic burden on our liver contributes to chronic fatigue, high cholesterol, irritable bowel syndrome, cognitive difficulties, and high blood pressure.
Colon: It is important that bowel elimination happens daily. The colon is the final place in the body where waste (food residue) travels before being eliminated.
Kidneys: The kidneys filter out water-soluble wastes from the blood that flows to them from the liver. These wastes are then stored in the bladder before elimination through the urine.
Skin: It keeps toxins from entering the body by serving as a protective covering. Also, because of its size and area, it actually eliminates more cellular waste than the colon and kidneys combined.
Blood: It is the key transportation system in the body, bringing oxygen and nutrients to the cells and flushing away waste products and toxins.
Lymph: Lymph, a clear fluid filled with immune cells, moves around the body in a series of vessels that parallel the paths of the veins. Lymph delivers nutrients as well as collects cellular waste and helps destroy pathogens.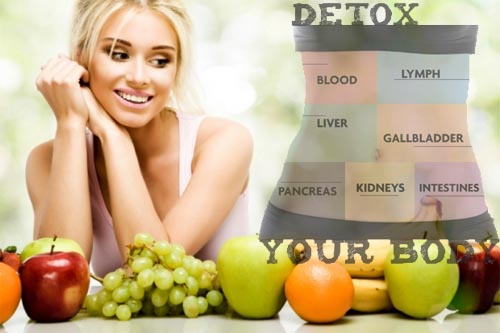 To achieve optimal cleaning results, it is essential to nourish and support all of our channels of elimination as often as we can. This typically requires a few shifts in your lifestyle and diet, which help reduce your exposure to toxins and help in your body's expulsion of current toxins.